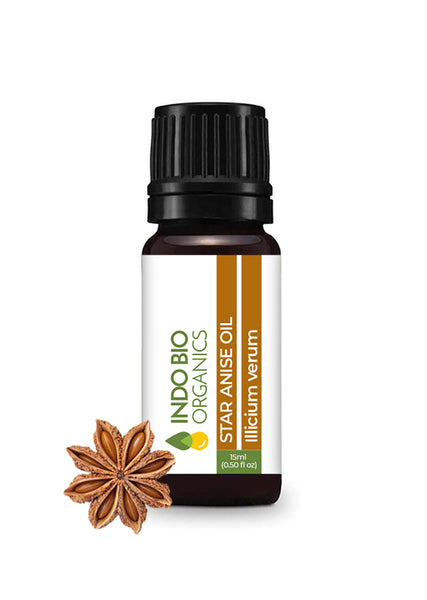 Zoom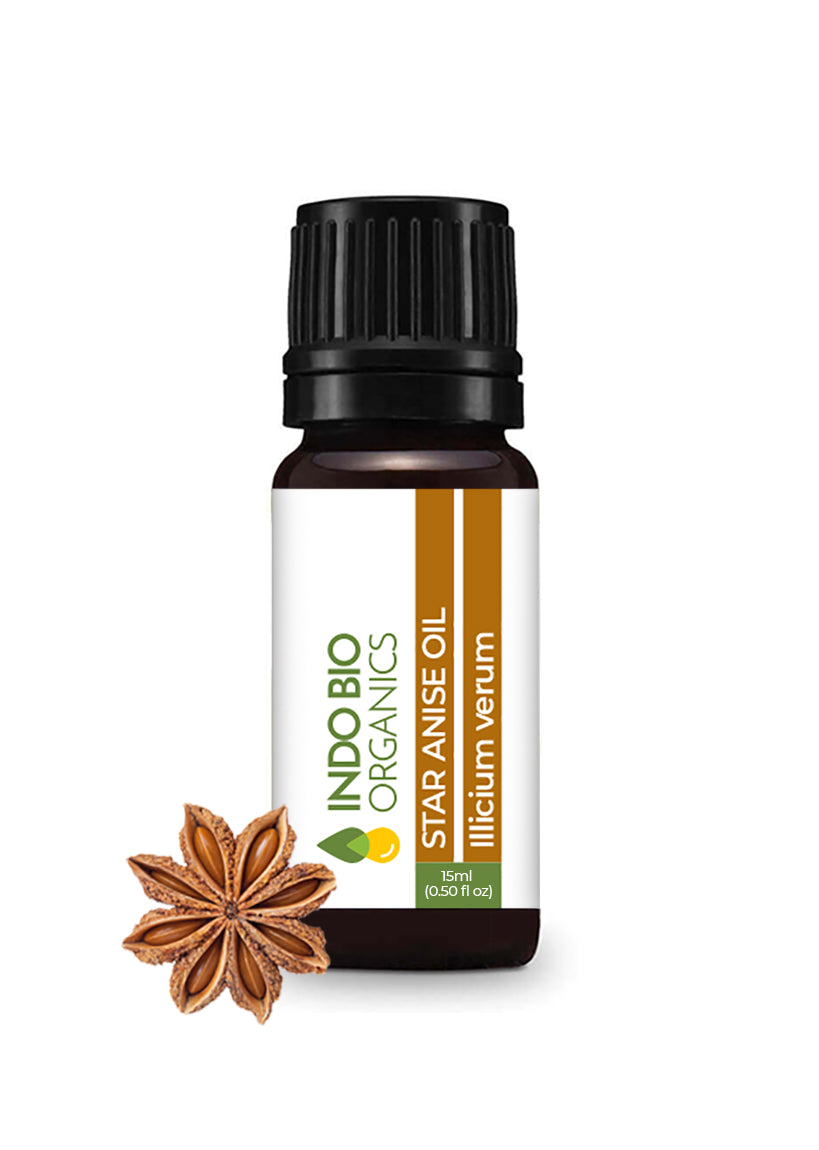 Description: 
The tree grows up to 12 meters high. Produces fruit which consists of 5-13 seed bearing follicles attached to the center of the axis.
Botanical Name: Illicium verum
Plant Part: Seeds & flowering tops 
Extraction Steam Distillation
Origin: India
Colour: Pale yellow liquid. 

Consistency: Thin

Note: Top

Strength of Aroma: Medium

Blends Well With: Fennel, cardamom, clove, orange, mandarin, bergamot, rose.

Aromatic Scent: Sweet, spicy, licorice-like scent

Cautions: Avoid use on sensitive skin and during pregnancy. Use in moderation.
All our oils are for external use only. Never use our natural essential oils or nature identical oils on the skin without diluting, never use internally, keep away from children and eyes, always check if there are any medical issues that could cause a problem. Seek help if you have any doubts. This statement has not been evaluated by the Food and Drug Administration. This product is not intended to diagnose, treat, cure, or prevent any disease. Please refer to our policies for further details, and our disclaimer on the bottom of our homepage. Bottles are filled by volume. Some bottle sizes may not be filled to the top, but do contain the volume of oil specified.
About this item
Sweet & Spicy Aroma: Star anise oil is a highly fragrant oil used in cooking, perfumery, soaps, toothpastes, mouthwashes, and skin creams. The sweet and spicy aroma of this oil makes it a good choice for aromatherapy.

Carminative Stimulant: This oil reduces the secretion of acid in your stomach which helps to offer relief from acidity. The Anise Star essential oil can help in tackling flatulence as well.

in reducing various Health Ailments: Star anise seeds contain ingredients that might have activity against bacteria, yeast, and fungi. Thus, it's helpful in fighting cough, cold etc. It is also beneficial in offering relief from digestive tract problems that include upset stomach, gas, loss of appetite etc.

Natural Antiseptic: Anise Star is a natural antiseptic, as is the essential oil. It may help combat acne when used at low dilutions in skin care applications. A room mist/air freshener made with Anise Star Essential Oil may help to kill airborne germs. Anise Star Oil has antimicrobial properties, which provide strong and effective cares to help kill germs and prevent infection.

Natural relaxant and sleep remedy: Anise Star has that calming and relaxing scent to reduce the Tension and provides a therapeutic emotional support.
Important Note: The information provided is for educational purposes only.