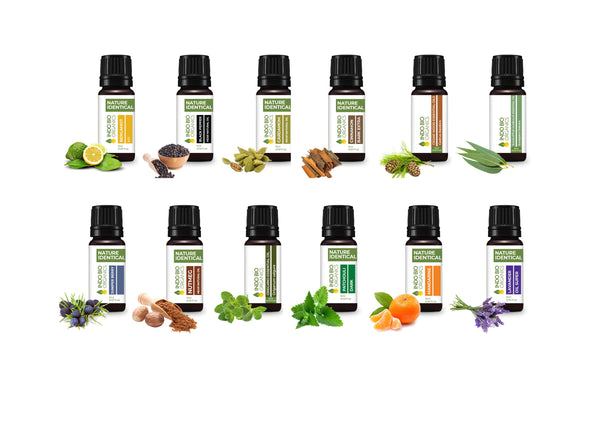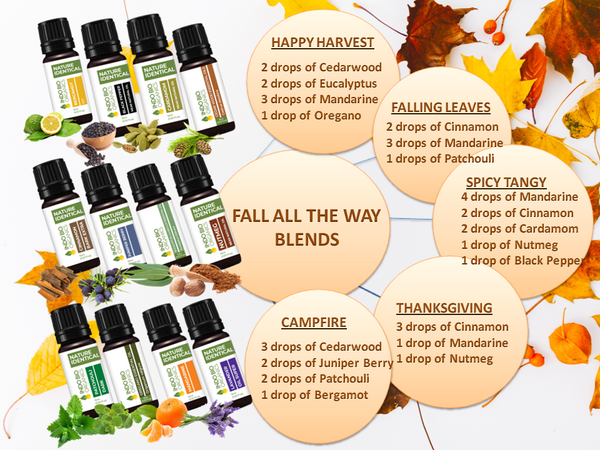 Zoom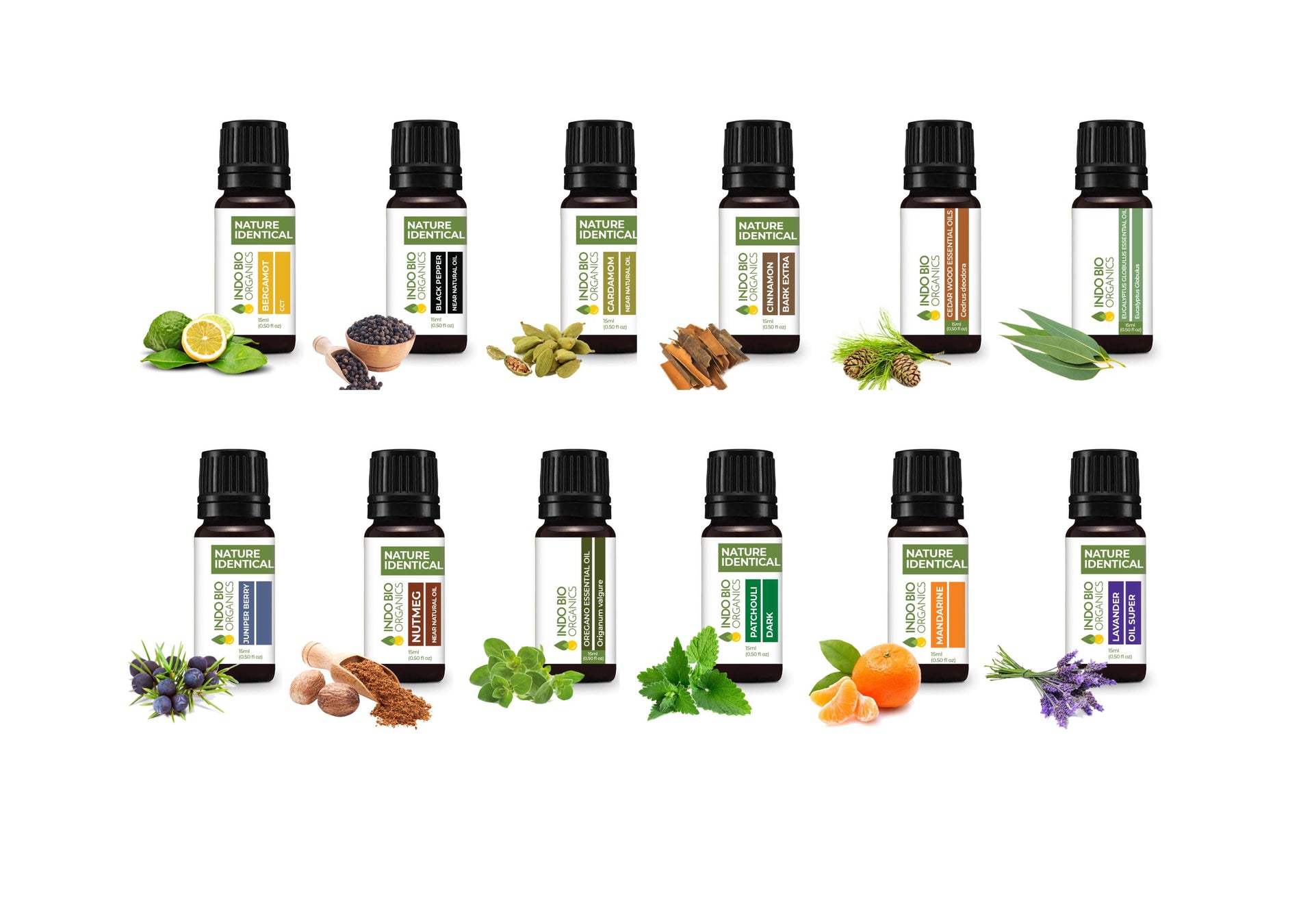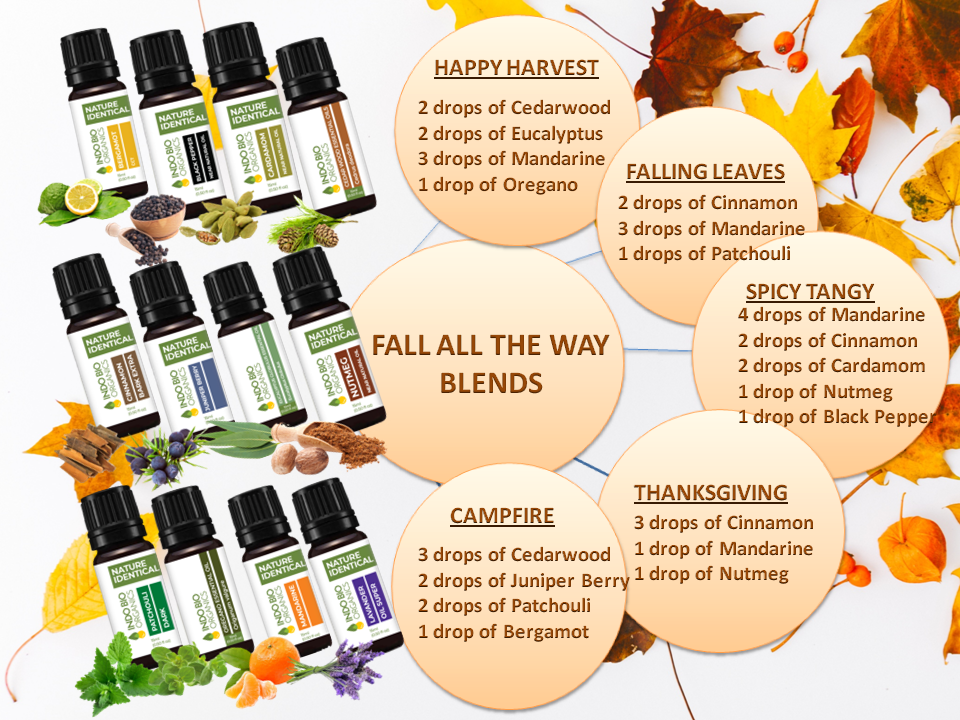 This set contains a beautiful blend of 12 floral, sweet and enriching oils to make your home an ideal place to protect you from  all your physical and psychological  constraints ,makes you feel satiated and stimulates the positivity within you.
Add few drops of any blend to your diffuser, candles, potpourri or ultrasonic humidifier and let the magic happen

Includes best-selling blends for re-energizing & uplifting your mood, practicing meditation and relaxing and also keeps your interiors fresh and lively throughout the day.

Repels insects- These oils help you to overcome the problem of mosquito, house flies, fruit flies & moths.

Suitable for making cosmetics, massage oils, soaps and candles as well as for use in home.

Comes in limited-edition, holiday-ready packaging for easy gifting.

Our essential oil set comes with 12 premium grade essential oils (0.5 fl oz / 15ml each) that are extracted from the finest ingredients.
COMES WITH: A festive, ready-to-gift box with 12 individual compartments, waiting to be revealed and delighted in.
CONTENTS:
| | |
| --- | --- |
| Bergamot Oil | Beneficial for anxiety and stress | improves digestive system | relieves discomfort |skincare |lowers  cholesterol | reduces pain and inflammation |
| Black Pepper Oil | relief from spasms and cramps | good for digestive system  | pain reliever  |relieves nasal congestion  |anti-oxidant |
| Cardamom Oil | Warming, comforting, and refreshing. Aphrodisiac, uplifting, and soothing |
| Cinnamon Bark Extra | Warm, sweet and spicy aroma | Improves circulation | reduce irritability | boost immunity |
| Cedarwood Essential Oil | Can be used for skincare | sore muscles and joints | respiratory health |
| Eucalyptus Essential Oil | Improves respiratory functions | improves circulation | effective in painful muscles |
| Juniper Berry Oil | High in nutrients and power plant compounds  |anti-inflammatory and anti-oxidant  |anti-diabetic properties  | promote heart health  | anti-bacterial and anti-fungal |
| Nutmeg Oil | Invigorating, revitalizing & stimulating |Warms the emotions, promoting a sense of comfort and openness | Analgesic | Stimulates healthy digestive system |
| Oregano Essential Oil | Fighting bacteria | treating fungal infections |providing anti-oxidants | reduce inflammation |aid weight loss |
| Patchouli Dark Oil | Anti-microbial  | skin care  | anti-inflammatory  |pain relief  | helpful in winding down |
| Mandarine Oil | Calming | relaxing | antispasmodic | effective in digestion related problems |ease heart palpitation or common breathing conditions | remarkable for dealing in insomnia, anxiety and nervousness | skin and hair care |
| Lavender Oil Super | Promotes calmness | relaxation and sleep | relieves stress | Anti-inflammatory and Anti-microbial properties | |
Caution : The information provided in the Oil Profiles area is for educational purposes only. This data is not considered complete and is not guaranteed to be accurate. For external use only.  Keep away from children & pets.  Avoid eyes & mucous membranes.  Avoid if pregnant. Highly concentrated - always dilute with a carrier oil when using on skin. Consult an EO reference book for more info. This product is not meant to diagnose, treat, cure or prevent any disease.